The Cameroonian music industry has been officially enriched with an almost two-year-old record label, Afrobit Productions, devoted to running and grooming young talents.
The record label officially presented its activities to the press Thursday December 9, 2021 in Yaounde during a press conference that doubled with the release of six albums from young artistes it has been grooming for close to two years.
The artistes include; Martin's author of the single Once upon a time, Sabrina for Love Agenda, DimY Vibz with Eden and Melancolie, Queen Sparks with I'm a queen, Soliverstone with 15% and Lil Ramses with Feelings. They were all presented to the press same day.
According to the record label's communication officer, it was created close to two years ago, with the ambition to groom rising stars and give them a space to work and express their talent and raise them up to be musical warriors.
The label aims to position itself among the best recording labels in the country to be an avenue for the many talented unsigned and unnoticed rising stars coming up every day for management and accommodation.
It intends to sign more artistes but wishes to focus for a start on the six talents it currently grooms to serving the Cameroonian public with good music and export the country's culture at its best.
As immediate project, the record label is preparing a national tour that would give its artistes enough visibility.
As far as achievements are concerned, Afrobit Productions has worked on a good number of singles, including Ca fait mal, A moi, Batimus, Pas la pour jouer, Woman, AND to name but these. It equally boasts of featuring with Koffi Olimide, KO.C, Young Meagan and performances at Black and White, Famous, Katios, plus two live concerts, during one of which renowned urban artiste Stanley Enow was at the presentation.
Artistes Profiles
MARTIN'S
Of his real names, Tchobé Martin Armand, Martin's was born on July 14, 1999 in Yaounde. He did his nursery and primary education studies at école publique annexe Essos. He continued at the Government Bilingual High School, Mimboman for college where he obtained his BEPC, Probatoire and Baccalauréat, série D. He is a holder of a Bachelor's degree obtained at the University of Yaounde I, in Geosciences. Martin's began singing with the college choir group. The passion for music remained unchanged when he got to the University as he joined the music department.
After winning an epis d'or at the University Festival of Arts and Culture in his music category, he was spotted by Afrobit Productions, his current record label in 2019. He proved he was up to the task with his cover La femme de quelqu'un by renowned French artiste, Singuila, featuring Koffi Olomide, released in 2020. Between talent, maturity and passion, Martin's wants to explore love in all its forms in his songs. His first album is titled "Once upon a time".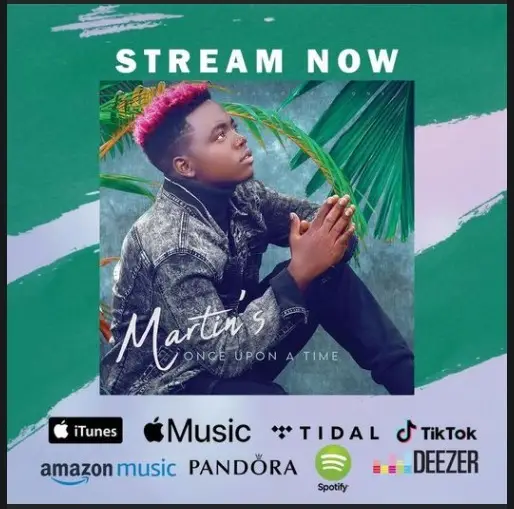 SABRINA
Born Wamba Kuegou Sabrina Ruth is a Yaounde-based young rising Cameroonian singer who hails from the West region of Cameroon. Aged 20, Sabrina currently studies Management and Human Resource at AZIMUT higher Insititute in Yaounde. She blends studies with music to obtain the artistic and professional skills required to succeed in her career. Eposed to the general public following her participation in her record house' casting with the cover "Poser" by Daniela Ahanda, Sabrina to date boasts of several studio tracks including the hit "A moi". It is worth mentioning that she collaborated with Koffi Olomide and Young Meagan on "Abele" and "Jaloux" respectively. Her very first album goes by name "Love agenda".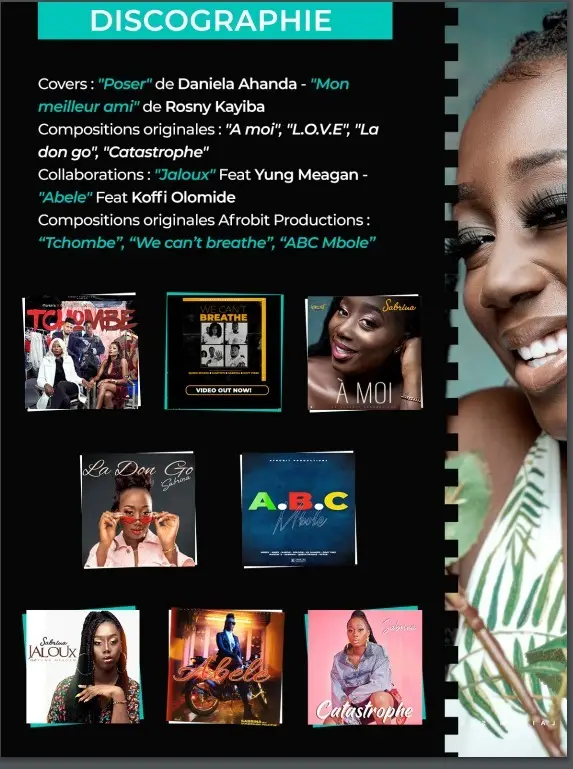 DIMY VIBZ
His real names, Fetmoutat Yvan Dimitri is a young artist, songwriter and singer born on October 30, 1997. Enjoying beautiful melodies since childhood, the son of the West region started his musical career at a tender age. He was exposed to the Cameroonian public after his record label noticed him during its casting thanks to his cover "Souffrance d'amour" by Ben Decca. Thereafter, he released his first single titled "A l'amour a la mort", a story that blends emotions and feelings. DimY Vibz has worked with his label comrades to come up with "Tchombé", "We can't breathe" and "ABC". His first album, "Eden et Mélancolie" released on December 9 has 14 titles available on all legal downloading platforms.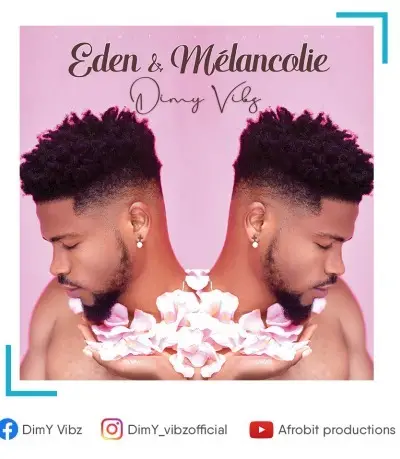 QUEEN SPARKS
Queen Sparks is one of the six artistes currently groomed by Afrobit Productions. Going by her real names, Mbunji Vanessa Mbandong, the singer was born on December 9, 1996 in Molyko, Buea, South West region of Cameroon. She is a holder of a Bachelor's degree in Educational Psychology and a minor in English Language. Just like her label companions, Queen Sparks started singer at a very young age. She was member of religious groups including Cadets of Mary and St Thomas Acquinas Choir. Growing up in the musical sphere, she drew inspiration from Beyonce and Bébé Manga. In 2019, she fully engaged with music as a career, working with Buea-based Nelson Music and Carj Records. In 2020, she signed under Afrobit Productions, her current label. She boasts of a featuring with Stanley Enow under the hit "Ghetto". Her first album, "I'm a queen", by Afrobit Productions is available on all legal downloading platforms.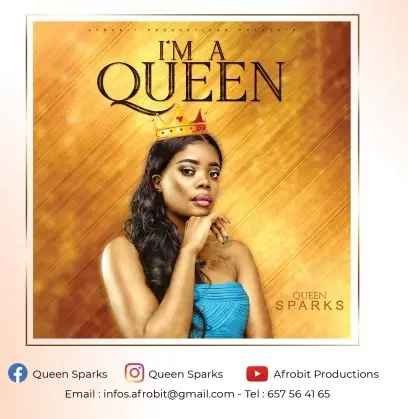 5.      LIL RAMSES
Born Takangt Alexy Ayuketang on January 17, 1998, our fifth artiste is of Nigerian and Cameroonian origins. The father hails from Onitsha, in Anambra State, Nigeria and the mother is from Mamfe, South West region of Cameroon. After successfully going through higher studies, he decided to abandon studies and take his dream career, singer serious. That was in 2018. He signed with Afrobit Productions in 2020 after he returned from Nigeria where he trained his talent as a dancer and rapper. In his write-ups, he blends English language and pidgin. He boasts of two singles, "woman" and "Tok".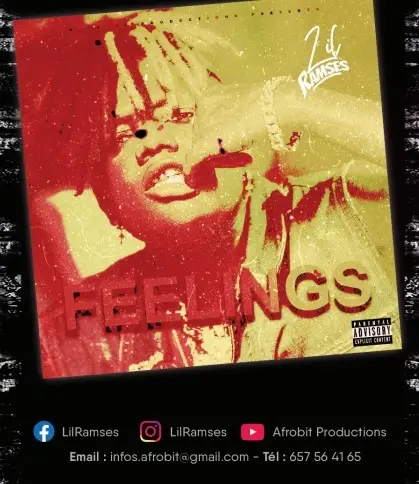 6.        SOLIVERSTONE
Described as the mystery of Afrobit Productions, Soliverstone, of his real names Mbilong Ntounda Paul Stéphane has always been presented in the form of a cartoon. He was born on August 10, 1995 in the Centre region. He began mingling with the musical world in 2016 thanks to his presence in record houses. He joined the Afrobit Productions train over a year ago. His first album, "15%" dropped out last December 9 is available on all legal downloading platforms.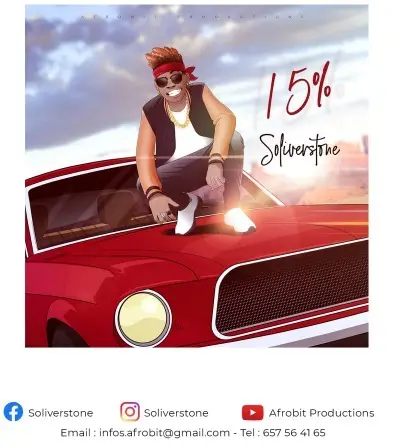 Ariane Stevyne Foguem